Welcome! To reward your loyalty on the Luxembourg – Copenhagen route, we suggest you the following offer. Simply register via the form below to participate on this action: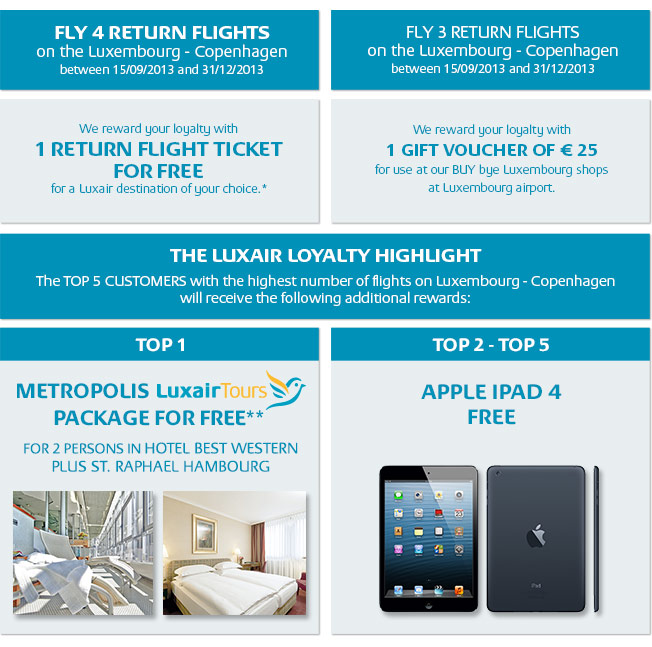 Thank you very much for your trust and loyalty to Luxair!
---
Interested? Please enrol with the name as shown on your flight tickets here:
* Voucher for 1 free return ticket to a destination operated by Luxair Luxembourg Airlines (does not include LuxairTours flights and journeys.). Voucher valid until 30/06/2014 – Booking according to availability of seats in airplane – The free ticket is not transferable and not refundable. Ticket can only be obtained at Luxair Luxembourg Airlines, Luxembourg Airport, L-2987 Luxembourg.
** Free LuxairTours Metropolis Package for 2 flight tickets from Luxembourg with a stay of 3 days (2 nights) for 2 persons at the Best Western Plus Hotel St. Raphael Hamburg (double room). Travel period: 01/02/2014-31/10/2014; subject to availabilities. Reservation and emission of the travel documents can only be made at LuxairTours, Luxembourg Airport, L-2987 Luxembourg. Metropolis package is not transferable and not refundable and only valid on Luxair's direct flights.